Palm Readings Online Worldwide
Enjoy a personal Online Palm Reading with Gary Markwick
Wherever you are in the world
Consultant Member and Assessor at the MBS Professionals Ltd – CNHC registered
Palmistry consultant and Teacher – Member of the UK Reiki Federation
Qualified Usui & Karuna Reiki Master Teacher, Hypnotherapist, Past Life Regressionist, Trainer in the Law of Attraction, Teacher in Meditation, and an Author.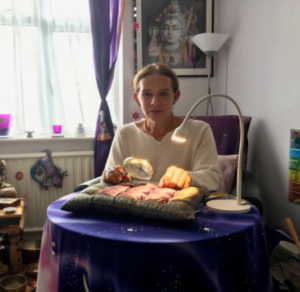 Gary is a well-known international celebrity palm reader and has read the hands of thousands of people worldwide. He has appeared on BBC TV, Sky TV, BBC Radio, Virgin Radio, magazines, and national and local newspapers and was featured in the News of the World, reading Barack Obama's handprint before his electoral campaign.
Gary has been using his talent with palm reading for more than thirty years and is a third-generation palmist in his family. It all goes back to a Celtic Ancestry in Scotland and Wales and more recent times here in London, England, when his family became well known in the 1950s. Gary's grandfather and mother performed for BBC TV and Radio and theatres throughout Great Britain, with Mind reading, Escapology, Illusionary and Palmistry.
Gary has an amazing healing energy and is warm-hearted, understanding, and compassionate.
With the development of new technology, the high quality of phone cameras and the advent of the Internet, it is now possible to take detailed photos of your palms for Gary to read remotely, as clearly as though you were sitting in front of him. We now live in a world where distance does not prevent communication. We talk to each other across the miles in 'real-time', face to face.
Gary reads each palm in detail, using his talent, experience, intuition, and ability to identify the lines' meanings and importance and can offer you a confidential, personal, and comprehensive reading over the Internet.
All you need to do is send photos of your hands and he will conduct a thorough, detailed, and personal consultation using Zoom, Skype, FaceTime, or WhatsApp. With a Zoom consultation, the palmistry readings can be recorded.
If you prefer a Palmistry consultation without seeing Gary, you can have an Audio reading, and the recording will be sent to you via email. You may ask questions before the reading.
All palm readings online, except for the Audio, will be complemented with the Tarot cards. Kabbalah cards or Playing cards are also available.
If you cannot do a face-to-face online reading with Gary, you can have an in-depth, comprehensive email reading; this consists of between eight to ten A4 pages in length, with Gary giving a detailed email report.
A full detailed reading covers everything that Gary can see within your life from an analytical perspective to clairsentience. The readings include personality and characteristics (your strengths and weaknesses). Careers (changes and direction), creativity, success, wealth, health, travel (possibly showing certain countries for work or other reasons). Directions and guidance in your personal and professional life, spiritual and personal protection (that may surround you), relationships & children.
For payments via bank Transfer or via PayPal please see below:
It is vitally important that your photos are clear and sharp and show enough detail so that Gary may see the more refined lines on the hands when the images are enlarged, without them going out of focus. The sides of the palms (the little finger sides) are essential for relationships and children.
For all Palmistry consultations you will need to send six photos:
Your left and right full palms so that Gary can see the finer lines on your palms, keeping your hands in an upright position.
Your left and right sides of the palms, the little finger side, turning your hands as much as you can and keeping them in an upright position, Gary only needs to see the very fine horizontal lines just below the little finger.
Your left and right backs of the hands, keeping your hands in an upright position, your nails should be visible. (If possible, remove nail varnish, otherwise don't worry)
Examples of photos below.
For the full Palmistry reading via email, you will also need to send:
Your place and date of birth.  The time of your birth, if you know this, if not this is not essential.
Your dominant hand (The hand you use most).  A photo of yourself (Optional).
Gary also offers Tarot consultations online.
All Palmistry and Tarot consultations to be paid beforehand. 
Prices for all Palmistry consultations are:
30 mins £65
40 mins £80 (with the Tarot cards)
50 mins £95 (with the Tarot cards)
60 mins £110 (with the Tarot cards)
Audio readings:
30 mins £70
40 mins £80
Email report:
£180
Tarot consultation 
30 mins £60
45 mins  £80
Please pay Via Bank transfer or PayPal:
The Bank of Scotland
Gary Markwick T/A Palmistry In Hand
Account no: 06733631 – Sort code: 12-24-81
 Outside of the UK:
IBAN: GB88BOFS12248106733631
BIC Code: BOFSGB2S
Bank of Scotland PLC,  Teviot House,  EH12 9DR
Click on the links below to pay via PayPal with a credit card 
---
---
---
---
---
---
30 Minute Tarot Card Consultation/
---
45 Minute Tarot Card Consultation
---
---