Call Gary Now
About Gary Markwick
Consultant Member and Assessor at the MBS Professionals Ltd
Appeared on BBC TV and BBC Radio
International Professional Celebrity Palmist, Psychic
CNHC  registered
Member of the UK Reiki Federation
Usui Reiki & Karuna Reiki Master/Teacher, Spiritual Healer
Qualified in Hypnotherapy, NLP, Past Life Regression
Smoking Cessation and Trauma Therapy
Trainer in the Law of Attraction
Author of 'Now It Begins', and 'Adventures of the Great Marlo and the Blue Pearl'
Email: gary@palmistryinhand.com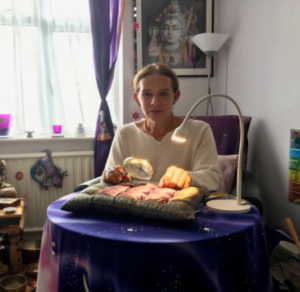 "My aim is to help and show people how to find positive resources and intentions, by using one's own skills in obtaining the full potentiality that exists within our life. Through positive thinking and the Laws of Attraction, we can bring forward endless possibilities into our lives.
Gary has appeared on
BBC TV South East Regional News
Sky TV (Your Destiny)
Virgin Radio (talking about Donald Trump)
BBC Radio 4 News Programme 'PM' Interview with Presenter, Eddy Mair and a Cambridge professor, a talk on health with palmistry
BBC Radio 4 Comedy Hour live with a studio audience, hosted by Marcus Brigstocke of 'Have I Got News For You' and reading the hands of celebrity and comedian Phil Jupitus of; 'Never Mind the Buzzcocks and QI fame'.
Gary has also had write ups in local and national newspapers (News of The World, reading Barack Obama's handprint before his electoral campaign. See; newspaper articles), and has given many readings at various corporate events.
In the realms of palmistry, Gary has been described as being very accurate.
Gary has read the hands of thousands of people from around the world and from all occupations, backgrounds and nationalities. Psychics and mediums often stop before passing by, as they are drawn to the warm positive energy that is given out when he is reading hands in public.
Gary has been using his talent for palm reading for the past thirty years, and is a third generation of palmists in his family. It all goes back to a Celtic Ancestry in Scotland and Wales and more recent times here in London England, when his family became well known in the 1950's. Gary's grandfather and mother performed for BBC TV and Radio and theatres throughout Great Britain, with mind reading, escapology, illusions and palmistry.
"As a child, my grandfather would occasionally try to help me towards opening my mind, by creating a greater awareness on the esoteric level. He used to do this, by holding up playing cards and other types of cards that had psychic symbols on them, testing me to reveal the answers on the reverse side. As I was so young, at the time I did not really appreciate what he was trying achieve for me, and even though I strayed from esotericism for some time, I suppose that a certain amount of awareness was always with me, as well as being carried within my DNA. Later on in my life my awareness grew however, psychic awareness is not something you switch on or off like a tap, it comes and goes often when we may least expect it to.
"Neither, my grandfather nor my mother taught me the art of palmistry, so after many years of studying it and learning myself, I began to give sample readings when travelling the world. At a later date, I decided to go professional with palmistry and have continued on that path ever since. At the same time, I became interested in learning and gaining qualifications in other skills that I could use to help people. I am now a qualified Reiki Healer, a Reiki Master Teacher, a Hypnotherapist, an NLP Practitioner, a Past Life Regressionist, and a trainer in the Law of Attraction.''
Dreams and premonitions:
"Ever since I was a child, I have received dreams & premonitions that have actually taken place in waking life about friends, family and world issues. A dream that I had a few years ago has recently been revealed. It was on the night that Jill Dando the BBC News Reporter was murdered. I dreamt that two police officers were holding me and I was telling them; "It isn't me you want, it is that guy, he's getting away", and then I pointed to the real assassin making his escape.
"I saw a small man with greased back black hair, throwing his gun into the river Thames, and then climbing into a car with another man sitting beside him. The dream told me that these men were from another country. A day or two later, I actually telephoned the police (which I have never done before) and mentioned my dream, as they were asking for information at the time. It is possible that they thought that I was quite mad! Until I told them which gun it was, that shot her – "A 9mm".
"At this time, no information had been revealed to the public. When the police arrested me in the dream, it revealed that the police had got the wrong man, which is actually what happened in real life! The rest is history!''
Gary is a qualified Reiki Master and offers the following workshops:
Reiki Healing Sessions and Workshops for all levels of Reiki – 1, 2, 3a, 3b Master Teacher, with Certificates and Lineage. Gary is a member of the UK Reiki Federation and registered with the CNCH, which is recognized by the medical profession, he is a USUI, Reiki and Karuna Reiki Master/Teacher, and Spiritual Healer Reiki Website
Gary holds qualifications in Hypnotherapy, NLP, and Past Life Regression, and offers the following sessions:
Hypnotherapy in all things including Trauma therapy and smoking cessation, Past Life Regression and Hypno-Healing protection therapy – 'The Shield'- Hypnotherapy website
Gary is a qualified teacher for The Law of Attraction and offers the following workshop:
One-day personal one to one workshop using NLP and Mindfulness
Celebrities Hands Read
Gillian Taylforth:                    Actor, – BBC TV EastEnders, The Bill, Footballers Wives
Sandy Toksvig:                        Television & Radio Presenter
Richie Havens:                        Singer/Songwriter, Performed at the famous 'Woodstock Festival 69'
Rowan Marley:                        Designer, Son of Bob Marley Singer/Songwriter
Phil Jupitus:                            Comedian & Presenter of 'Never Mind the Buzzcocks, QI fame'
TJ Higgs:                                Psychic Medium of 'Psychic Private Eyes TV'
Zoë Lister:                               Actress, Hollyoaks TV series
Barack Obama:                      Reading & analysing handprint for newspaper
Victoria Yates, Actor:             Call the Midwife
Past Events
*Write up in Metro Newspaper (over one million copies sold)
*Celebrity Charity Ball, Whitehall, London, UK
*Sky TV 'Your destiny' psychic channel
*News Life Expo New York – Largest psychic show in USA
*Camden Gazette – Local newspaper
*BBC Radio 4 with Marcus Brigstocke & Phil Jupitus
*Radio 4 Comedy Hour live with a studio audience, hosted by Marcus Brigstocke of 'Have I Got News For You,' and reading the hands of celebrity and comedian Phil Jupitus of; 'Never Mind the Buzzcocks and QI fame'
*News of the World National Newspaper – Gary reades Barack Obama's handprint before his electoral campaign
*92 FM – London local community radio
*Borough of Barnet Times – Local newspaper
*Britain's Got Talent – production party
*Write up in Spirit and Destiny magazine
*Book signing WH Smith, Brent Cross London
*Daily Express- National Newspaper – Gary gives his view on the Royals: Prince William, Harry, Megan, and Kate
*Psychic News Magazine – Gary gives an explanation about Palmistry
*Interview with BBC SE Regional News 
*Talking about Health with Palmistry, on BBC Radio 4 news program – PM Interview with Presenter, Eddy Mair and a Cambridge professor
*Interview with Virgin Radio, talking about Donald Trump
*Interview with Chistina Bucher for YouTube